Book Shelf
New/revised edition of In The Heat Of The Jungle is out in print and ebook with an awesome cover by Ashley Fontainne. Originally published as Whispered Kisses long ago. Set in 1896 Kenya, an historical romance. Cover coming soon.
Moondust Series: Sci-Fi, intergalactic novels:
This print series has been revised, so if you buy an old edition, you will not get the new and improved versions of each book. Look for the new covers to be sure you are buying the revised versions! Kensington has swapped out the old ebook editions for these new Moondust And Madness is available at audible.com.
Revised edition of Whispered Kisses (long out of print) with a new title In The Heat Of The Jungle, with an amazing new cover by Ashley Fontainne. In print and in ebook now! Set in 1896 Kenya. Perils and passions in the jungle.
Love Me With Fury is back in print and for sale at Amazon. As is the ebook at all sources!
Print edition of Fourth & One for sale on Amazon. ISBN-10: 1507858671
ISBN-13: 978-1507858677
ebk links for Fourth & One. $3.99. For sale Worldwide.
http://ow.ly/FUvLt - Kobo
http://ow.ly/FW6a0 Nook link
http://ow.ly/FWftG iTunes
http://ow.ly/FUwgp Kindle US
http://ow.ly/FUx1I Kindle UK
http://ow.ly/FUxyo Kindle Canada
Hot Flash: Whispered Kisses returning soon with an awesome new cover. So is Defiant Hearts!
Check out CBS radio interactive ad - http://bit.ly/1fwHeHP you'll find me & 20 great authors. Fab books, book trailers, web site links - everything YOU need to download fabulous eBook reads! I'm book #9 on the list of those chosen by CBS.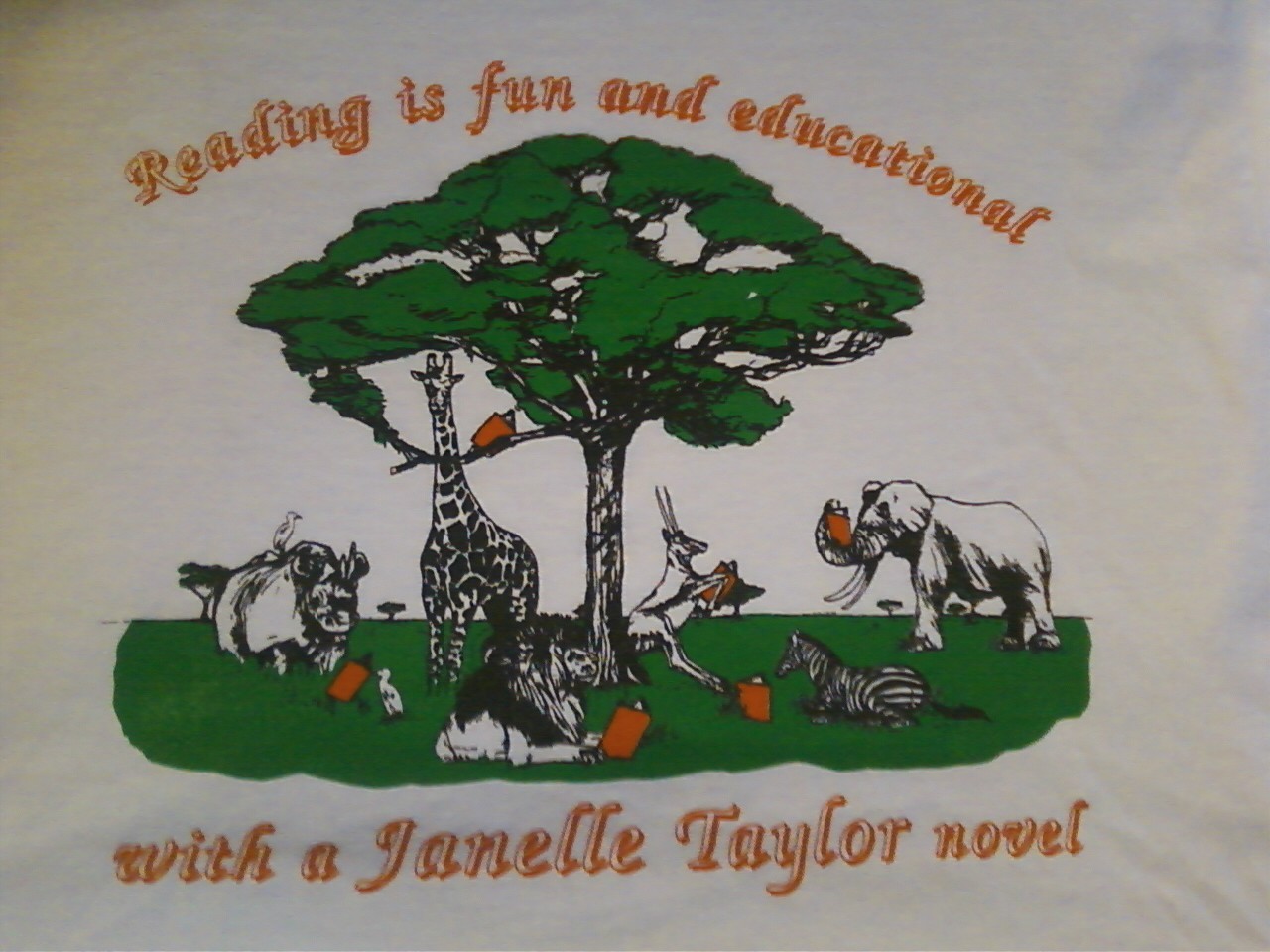 NECESSARY EVIL ebook is out in iTunes, Kobo, Smashwords, NOOK, etc.
Permalink: http://amzn.com/B009MQP6UM. http://amzn.co.uk/dp/B009MQP6UM
Can Lt. Daniel Mallory outwit a cunning and sinister serial killer who believes in "an eye for an eye" retribution for vicious criminals who escaped the justice system? A predator who never leaves behind clues or evidence, and is always one step ahead of him? Can he elude a lethal threat from his past long enough to unmask and arrest the Avenger? Mystery. Suspense. Graphic violence. Necessary Evil. Please note: only for mature audience! Audible version soon.
Available via Amazon in most countries, such as UK, FR, SP, Gr, JP, etc.
The print version of NECESSARY EVIL is for sale at Amazon! http://www.amazon.com/Necessary-Evil-Janelle-Taylor/dp/1482504634
Ms. Taylor has 9 NY Times Bestsellers and many awards, along with over 65 million copies in print worldwide, plus ebooks. She is known as one of the "pioneers of the romance industry," and one of the "Legends of Romance." She is also listed on the Top 100 most famous Georgians. She has won many awards for her books.

Follow me on Twitter @TaylorJanelle6

Check her out on Amazon Author Pages: https://www.amazon.com/author/janelletaylor

2011 Releases: Kindle, NOOK, iTunes, iPad, any electronic source
11/1/11, How The Zebra Got Its Stripes, print in color @ Amazon, ebk 11/12
11/1/11, Hot Toddy Sizzlers, multi-author ebook (lots of info about me) FREE
11/15/11, Kiss Of The Christmas Wind, ebook

2012 releases:
A CHRISTMAS SURPRISE, Bell Bridge Bks, novella, ebk, 11/30/2012
NECESSARY EVIL, ebk, mystery/thriller/horror, 10/5/2012
4/15/12: VALLEY OF FIRE, Bell Bridge Books, in print and ebook formats
7/31/12: STRAIGHT FROM THE HEART, Bell Bridge Books, in print/ebk format
8/12: KISS OF THE CHRISTMAS WIND, audio: audible, iTunes, Amazon, etc.
Also in audio: BC, NM, DGH, LW via audible and Recorded Books.

2013-15 releases:
HOW THE ZEBRA GOT ITS STRIPES, ebk in B/W, color and HD, 2/2/13, only $1.99
NECESSARY EVIL, in print version at Amazon 1/12/13.
FOURTH & ONE, contemporary romance. Ebook 12/29/14. Print 3/17/2015
UNNECESSARY EVIL, ebk, mystery/thriller/horror, coming soon
In progress: Romantic suspense (Dangerous Deceptions), men's adventure novella (To Die For Love), fantasy (Tears Of Enchantment).

Contemporary and Romantic Suspense
Shadowing Ivy-10/07
Haunting Olivia-10/06
Watching Amanda-10/05
Night Moves
Dying To Marry
Taking Chances
In Too Deep
Don't Go Home
Anything For Love
By Candlelight
Someday Soon
Not Without You
Can't Stop Loving You
Valley Of Fire
Love With A Stranger
Western Historical
Wild Winds
Follow the Wind
Chase the Wind--sequel to FTW
Kiss of the Night Wind
First Love, Wild Love
Passions Wild and Free
Cherokee Storm--7/10
Southern Historical
Destiny's Temptress
Midnight Secrets
Promise Me Forever
Defiant Hearts
Fortune's Flames
Native American and other Historicals
Sweet, Savage Heart
Destiny Mine
Whispered Kisses--Africa
Love Me With Fury
Golden Torment--Alaska
Gray Eagle/Lakota Series
Savage Ecstasy
Defiant Ecstasy
Forbidden Ecstasy
Brazen Ecstasy
Tender Ecstasy
Stolen Ecstasy
Bittersweet Ecstasy
Forever Ecstasy
Savage Conquest
Lakota Winds Series
Lakota Wind
Lakota Dawn
Lakota Flower
Moondust Series: Futuristic and Medieval Fantasy
Moondust and Madness
Stardust and Shadows
Starlight and Splendor
Moonbeams and Magic
Wild Is My Love
The Last Viking Queen (Orig. text & title/Pinnacle)
(edited version TLVQ: Wild, Sweet Promise, Bantam)
Collections, Anthologies/Novellas
Three 3-book collections, hardcover, Random House
Summer Love: "Straight From The Heart"/contemporary
Christmas Rendezvous: "Kiss of the Christmas Winds"/western
Love's Legacy: "Winds Of Change"/western
MY FIRST REAL ROMANCE: "Love At First Sight", Stein And Day, 1985
Foreign, ebooks, books on tape and book clubs
published in many languages and countries. Braille.
Doubleday BK. Club, Mystery Guild, Rhapsody, and more.
E-bks: Kindle, NOOK, iPad, iTunes, almost any electronic form. 4 on cassette tapes.